Here's your December 14 update on fighting the GOP tax bill.
Ok, first–We updated all our Doug Jones-related posts last night but we didn't tweak the December 13 update on the tax bill, so let us first say
YES YES YES YES YES YES YES SO MUCH YES
and
THANK YOU, ALABAMA!
Roy Moore has yet to concede, but multiple outlets confirm that Jones won the December 12 special election for the open senate seat in Alabama by about 1.5 points–a small but solid win, and enough to avoid an automatic recount, which would have happened if the two leading candidates were .5 percent apart or less.
It also looks like Moore cannot request a recount, even if he funds it, according to this entry by Rick Hasen on the Election Law Blog:
http://electionlawblog.org/?p=96376
So, Doug Jones will serve as Alabama's junior senator until 2020 at least, and the Senate Republican count falls from 52-48 to 51-49, which will hamstring the GOP's ability to push their agenda. Hooray!
The next step in helping Senator-elect Doug Jones is demanding that Senate Majority Leader Mitch McConnell seat him, or else delay the vote on the GOP tax bill until he can be seated.
There's precedent for this. When Republican Scott Brown defeated Democrat Martha Coakley in a special election to fill the Massachusetts Senate seat of the late Ted Kennedy in January 2010, Senate Republicans demanded that the pending vote on the Affordable Care Act be postponed until Brown could take his place. Their demands were honored.
Jeremy Slevin, who works with the Center for American Progress, did the Daily Show-style work to unearth video of McConnell and 'Regular Order' John McCain's demanding that Brown be seated before taking the vote on the Affordable Care Act.
Go to @jeremyslevin to see those tweets.
Democrats can, and should, demand the same courtesy for Jones.
When you make your daily call to oppose the GOP Tax Bill, also tell them that they should support postponing the vote until Jones is seated.
Of course that doesn't mean that Mitch McConnell will do the right thing. The man who held a Supreme Court seat open for the better part of the year will likely see no problem with shoving the GOP tax bill through before Alabama's Secretary of State finishes the paperwork to certify the results of the special election.
On December 13, the Democrats did indeed call for a pause on the reconciliation process on the bill:
https://www.washingtonpost.com/powerpost/democrats-call-for-halt-to-gop-tax-bill-until-jones-is-seated-in-the-senate/2017/12/13/9c42fe44-e00f-11e7-8679-a9728984779c_story.html?tid=ss_tw&utm_term=.3b9049a3bee6
…but the Republicans might have figured things out. On December 13, Andy Slavitt (@aslavitt) tweeted:
UPDATE: GOP announcing Herve reached a tax deal. The rush is on.
But! Topher Spiro (@topherspiro) tweeted a good point around the same time on the same day:
Could they have a reason to say there's a deal? Think about it for one second.
I mean, I could have predicted last night they would say they have a deal this morning.
But later in the day, the Washington Post reported that GOP Congressfolk had reached an 'agreement in principle' on the tax bill. Spoiler alert: It helps the wealthy and corporations more than it helps the middle class. Read the WaPo story:
https://www.washingtonpost.com/business/economy/republicans-reach-compromise-tax-plan-expanding-tax-cuts-for-the-wealthy/2017/12/13/4f9ca66c-e028-11e7-bbd0-9dfb2e37492a_story.html?utm_term=.bd380aaff980
Regardless of whether the GOP Congressfolk have an actual deal or not, the answer for you is the same:
Call, call, call and tell your members of Congress to vote NO. Ask your friends and family to call, too. Do it every day until this bill is dead, or passed.
And you're following @Celeste_Pewter on Twitter, right? In case you're not, here's a December 13 tweet-thread you should see:
All, your #taxbill calls need to be stepped up a notch.
If possible, please make it calls and not emails or faxes. Time is of the essence right now.
Here's the page with scripts. Updates to come. http://itstimetofight.weebly.com/tax-bill.html 
4. Your governor's office may very well tell you: "This is a federal issue, etc." Counterpoint: tell them how the bill will impact your state, and constituents, and why they need to put pressure on their federal colleagues.
(If there is enough pressure on a specific subject on an elected, they will feel pressured to speak out. I used to monitor the news AND constituent responses for my boss, and make recommendations on issuing statements on issues.)
5. Call/email five friends and family, and explain in straightforward terms, why you need them to do steps 1-3. Make it easy for them. Give them names, numbers, emails and scripts. Tell them exactly what to do and say (but personalize). Then tell them to do this w/ 5 friends.
FAQ, as usual: A. Only use social media to rally your followers. Do not use it to contact your electeds. Their staff can't ID who you are or where you live via social, so your contact here is pointless.
B. The reconciled version has to go back to both House and Senate for a vote, so you should be contacting both. C. Ask for: 1. A no vote w/ all electeds 2. For the Senate, ask for the vote to not take place until Jones is seated.
D. But understand: 3. The GOP is desperate to pass something, 4. McConnell likely to say no to the Jones request. (But you should still be asking anyway, to see where your Senators stand.)
E. While we want this bill to collapse, if we can at least mitigate some of the damage by getting the worst amendments/language stripped out, it will still make a difference. Make your calls, and make them TODAY.
Details on the bills are still coming in, so if you're calling now, you can keep it vague (but make sure you personalize). Scripts.
Some additional things to do: 1. If your specific field will be impacted (e.g. grad student) write an OpEd and send it into your local paper. Their opinion emails are generally public. 2. Make a video (or write a post) explaining how the tax bill will impact you.
3. Tag your electeds in that video/post. I've seen Democratic electeds accounts help boost videos, which helps spread the word. Make your calls TODAY. They're looking at a vote next week.
Repeat text follows, but scroll down for additional information about how best to defend net neutrality.
Here's a December 10 Twitter thread from tax expert Michael Linden that you should see, which lays out what makes this week important:
This coming week is make-or-break for the GOP tax scam. If you have any interest in fighting this disastrous bill, follow along for a state-of-play update. Short version: we CAN still stop this thing. 1/
Here's where we are: Both the Senate & House have passed versions of the GOP tax scam. They have a lot in common (huge tax cuts for the wealthy & corporations, tax hikes on millions of middle class families) but aren't identical. 2/
To become law, the House & Senate have to pass identical bills. So to come up with ONE new version that both chambers can pass, the GOP has sent their bills to a "conference committee." 3/
That Conference Committee is, right now, behind closed doors, ironing out the differences between the House & Senate bill. The bad news is that the bill is much more likely to get worse than it is to get better. 4/
Once the Conference Committee creates a new bill that they think can pass both chambers, both the House and the Senate will have to vote AGAIN. That's our last chance to #KillTheBill. 5/
The Conference Committee is going to have precisely 1 "open" meeting (it's not much more than a photo op), and that'll be THIS WEDNESDAY, December 13th, at 2 PM. 6/
it'll be only a matter of days before the FINAL vote in the House & Senate. Those votes could be as soon as Thursday, but likely will be early the week of the 18th. 7/
That means this week is CRITICAL. If we're going to stop this bill, Congress needs to hear and feel the backlash. We can stop it either by flipping 10 GOP votes in the House or 2 GOP votes in the Senate. Tall orders, yes, but not impossible. 8/
Here's a list of 50+ potentially flippable House GOPers. These all have some combination of the following characteristics: •From states that would be particularly hard hit •Voted against ACA repeal •Are in competitive 2018 races We need 10 of 'em. 9/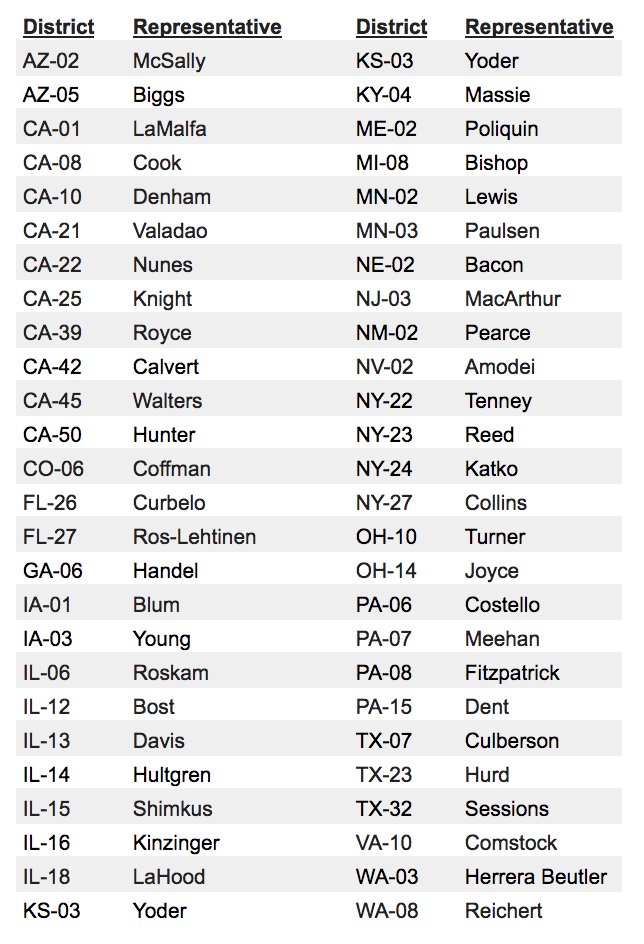 In the Senate, our best bets are Susan Collins and Jeff Flake (and it would help if Doug Jones wins on Tuesday). Both were promised concessions that aren't likely to be in the final bill. Both want to be thought of as "serious" and "independent." 10/
So, what can you do? 1. Call EVERY day. Especially if you are in AZ, ME, or one of those 50 House districts, but call daily even if you aren't (Congress needs to feel the backlash everywhere – & they talk to each other). 11/ <Note from OTYCD: Yes, this is one of those times when it is OK to call for days in a row on the same issue.>
Bottom line: the GOP knows their tax scam is historically unpopular. They're hoping that voters will forget about it by next November and beyond. Our best bet to stop the bill is by showing them we won't forget. /end
And here are more things you might want to know:
There might be a GOP Tax Scam protest near you. Check this link to find out:
https://notonepenny.org/take-action/#events
In her December 6 update on fighting the GOP tax bill, Celeste Pewter (@Celeste_Pewter) offered talking points that you can use with friends, family, and co-workers:
8. Here are talking points you can include in any contact you share w/ friends/family/colleagues. Key point is that the impact on the deficit could eventually result in cuts in entitlement programs.
The Senate has chosen its lineup for the Tax Conference Committee. They will represent the Senate when trying to reconcile the House and Senate versions of the GOP tax bill.
If any of these Republicans are your senators, it is super-extra-important for you to call and make your opposition known.
Orrin Hatch of Utah
Mike Enzi of Wyoming
Lisa Murkowski of Alaska
John Cornyn of Texas
John Thune of South Dakota
Rob Portman of Ohio
Tim Scott of South Carolina
Pat Toomey of Pennsylvania
Before that, the House GOP named its tax conference committee members. If any of these folks are your reps, it is super-extra-important for you to call (again, all are Republicans):
Kevin Brady of Texas
Devin Nunes of California
Peter Roskam of Illinois
Diane Black of Tennessee
Kristi Noem of South Dakota
Rob Bishop of Utah
Don Young of Alaska
Greg Walden of Oregon
John Shimkus of Illinois
Here also are several other folks aside from @MichaelSLinden, @Celeste_Pewter, @TopherSpiro, and @aslavitt who you should be following on Twitter to stay on top of the GOP tax bill, which is morphing constantly, like a suspect science experiment in a horror movie. Some of these people are old friends from the Trumpcare fights. Some are tax experts.
Ben Wikler @benwikler
Seth Hanlon @sethhanlon
Sunjeev Bery @sunjeevbery
Lily Batchelder @lilybatch
Greg Leiserson @gregleiserson
Chad Bolt @chadderr
In addition, you can call your members of Congress (MoCs) to ask them to defend Net Neutrality–that vote could come on December 14.
We've been beating the Net Neutrality drum all year. Below is a post that explains why we need to keep it, and contains a script you can use when calling your MoCs:
https://onethingyoucando.com/2017/12/02/defend-net-neutrality-and-keep-the-internet-a-level-playing-field-for-all/
Now, a refinement of this point. The vote that's happening on December 14 is NOT a Congressional vote. It's the five members of the FCC. Two are against repealing Net Neutrality, and three are believed to be for it.
Here are the email addresses of those three. Please email them and ask them to vote to keep Net Neutrality. As always, be clear and firm but unfailingly polite.
Ajit Pai, Chairman Ajit.Pai@fcc.gov
Michael O'Rielly, Commissioner Mike.O'Rielly@fcc.gov
Brendan Carr, Commissioner Brendan.Carr@fcc.gov
Here also are two more recent posts that relate to the GOP tax bill and its effects that you should see if you haven't yet:
https://onethingyoucando.com/2017/12/02/refresh-review-and-prep-for-2018-gop-tax-bill-related-briefing/
https://onethingyoucando.com/2017/12/03/commit-now-to-put-any-tax-benefits-you-might-get-from-the-gop-tax-bill-to-fighting-its-effects/
One last note, which we've stated before: Even if this bill ultimately implodes and never becomes law, we still need to vote out every Republican that we can in 2018. This whole process has been nothing less than legislative malpractice. They should be punished for aiding and abetting it. Period.