Here's your December 15 update on fighting the GOP tax bill, with side notes on defending Net Neutrality.
On December 14, Andy Slavitt (@aslavitt) tweeted a good rundown of the state of things:
Vote count on tax bill just got interesting w/ Senator McCain hospitalized now, Collins up in the air & short window before Jones is sat.2/
Word is Pence is planning to cancel international travel next week because he now thinks is vote may be needed.3/
If this is right, it means McConnell is concerned about having only 50 votes. If Corker votes no & McCain can't vote, focus goes 2 Collins.4
Time is the other factor. The sooner the new Alabama senator is sat, the quicker the will of the Alabama voter will be heard. 5/
The GOP political reality is that post 2018 AL race, the prospects for accomplishing much next year is low. They view their window as now.6/
Defeating the tax bill is an uphill battle, but it means any Senator can change it, there is no room for time to slip, AL voters must be ignored & Collins must accept a promise that can't be kept. And that's what they're planning to do unless they're stopped./end
And in response to this Damian Paletta (@damianpaletta) tweet…
MORE BREAKING: Rubio is now a NO on the tax bill unless Child Tax Credit is expanded. Lee is now an undecided. Hatch concerned.
…which pointed to this Washington Post story:
https://www.washingtonpost.com/business/economy/rubio-to-vote-against-gop-tax-bill-unless-tax-credit-for-working-poor-is-expanded/2017/12/14/8be53a22-e0f9-11e7-89e8-edec16379010_story.html?pushid=5a32c5bbb0a05c1d000000c8&tidr=notifi_push_breaking-news&utm_term=.fc262481949e
… Ben Wikler (@benwikler) tweeted:
THIS FIGHT IS NOT OVER MELT THE PHONES 202-224-3121
Now, we've seen this before. Marco Rubio flinches and sputters and whines and goes on to vote how his party tells him to anyway. We at OTYCD will believe he's serious only when he up and votes no on this thing.
Still. Mike Lee sliding into the 'undecided' column is news. And, Slavitt also noted on Twitter:
BREAKING: Word today from the Hill is that @SenatorCollins has no chance of anything but an IOU before being asked to vote for the tax bill.
…Maine Watch (@CollinsWatch) tweeted on December 14:
.@SenatorCollins has moved the goal posts on the tax bill so often that it's ludicrous but this is what she said YESTERDAY: "If the commitments are not kept to me I will not support the bill." #mepolitics
Will she keep her word and vote no? Who knows?
The answer is the same answer we've been giving you every day for weeks now: Call, call, call your members of Congress; encourage your friends and family to call; and when you call your senators, ask them to support efforts to either seat Senator-elect Doug Jones as soon as possible OR delay the vote on the GOP tax bill until he is seated.
Scroll down a ways to locate the standing script for calling your MoCs.
Now on to Net Neutrality (with apologies for technically giving you two things you can do, but hey, such are the times). On December 14, as expected, the five members of the FCC voted three to two to begin rolling it back.
First off, please contact FCC Commissioner Mignon Clyburn and thank her for her full-throated defense of Net Neutrality.
Here's her email address:
Mignon Clyburn, Commissioner
Mignon.Clyburn@fcc.gov
For that matter, following her on Twitter would be a good way to thank her, too:
@MClyburnFCC
She's also inviting your responses in her pinned tweet, and inviting you to join her online on December 19 at 2 pm EST:
The @FCC majority is ignoring the voices of millions of Americans – I will not. Direct all questions about #NetNeutrality to me. Will answer top questions online on Tuesday (12/19) at 2pm EST.
Celeste Pewter (@Celeste_Pewter) has been doing typical excellent work on the Net Neutrality front, but we at OTYCD want to amplify a specific piece of it:
Don't freak out.
Yes, this sucks, but the world has not ended. Our Net Neutrality strategy shifts now, and there are still many things you can do, and many things you can support your representatives in doing, to defend it.
But! Be mindful of getting too terribly whipped up. Authoritarian regimes try, deliberately, to burn you out by swamping you with horrors and keeping you spun up and twitchy. You really do need to take breaks, get rest, and come back ready to fight. No joke. If you can feel yourself getting ragged and frayed, step away, do something to relax, and then come back.
Oh yeah, and she's 100 percent right about staying polite and not indulging in hate-mailing Ajit Pai. It's a waste of effort, and it's counterproductive, too.
Here's what @Celeste_Pewter advised on Twitter just after the vote went down:
First, understand that this is NOT the end. I've seen many, many tweets suggesting this vote is the death knell for the internet. That's simply not true. Read the document I linked in this tweet. This won't happen overnight.
<This is the document she refers to: http://transition.fcc.gov/Daily_Releases/Daily_Business/2017/db1122/DOC-347927A1.pdf>
2. Understand just what #NetNeutrality is and isn't. This @mashable video will help. https://www.youtube.com/watch?v=f-IOUuIxejA … I'm seeing a lot of tweets suggesting #NetNeutrality means cutting off access; it's more slowing/throttling access for more $. (Broadly speaking)
3. Now, here are some actionable steps. A. Nix the desire to hate email the FCC. Do people like Pai deserve it? Hell yes. But it's not going to get anything done. B. Email your House Members/Senators TODAY and tell them you want the ball rolling on a telecoms bill. Script.
B1. I'm getting some questions about HR 4585, and whether we ask electeds to support. Going to say no – the bill address the FCC/rule, and not the root of this problem, which is this should be enshrined into law. Until laws happen,
#
NetNeutrality
will be a political football.
C. Call your state attorneys general, and ask them how they plan on addressing the FCC's changes. They're going to have similar powers to protect consumers from anti-competitive practices. Additionally, ask them to sign off on the letter calling to investigate fake comments.
D. Check out news sites/tech sites for lawsuits about Net Neutrality, and donate to their efforts. Start with places like
@
WIRED
. Donate to those causes. Spread the word. E. Tell your preferred 2018 Dem candidates, you want them to add
#
NetNeutrality
to their platform.
<Here is the Wired article she refers to: https://www.wired.com/2017/05/congress-not-fcc-can-fix-net-neutrality/>
Why? Because: A. You want to know what they'll do about Net Neutrality if elected, B. Making Net Neutrality a leading campaign issue, can very likely encourage even more volunteer/voter interest. (Seriously, I think the DSCC/DCCC should make this a campaign point)
Here's a script for your governor's office. I don't think they'll do this, but if they tell you this is an issue outside of their jurisdiction, point to Washington state's announcement as precedent for your call. #NetNeutrality
Some FAQs: 1. The petitions floating around should be seen as well-meaning ways to spread information, but will have ZERO actual impact. Petitions are designed to be hard. The boards/orgs/whatever you're filing them to, want to discourage hundreds of random/arbitrary filings.
Credentials: I saw a lot of petition filings when I worked in politics, and they were always, always struck down. The rules are designed to be complex on purpose. (Also, politicians are totally using the petitions to get your info for $$ during campaign season, so there's that.)  <FWIW, this is another reason why we at OTYCD virtually never ask you to sign a petition.>
2. I know I've said this hundreds of times, but please only use social media to rally your followers. Do not use it to contact electeds; their staff don't have the time to filter thousands of @'s or FB posts, and your point will be overlooked/ignored.
3. The comment portal for this process closed in August. Telling people to post to GoFCCYourself has been doing nothing, and will seriously do nothing. (Sorry, sorry! But it's true. All the recent posts saying to comment via GoFCCYourself, have made me cranky)
Finally. Take a breath. This is not over BY. FAR. The fight has gotten harder, but there are MANY of us and they are few. It may take until the Democrats are back in power, but we CAN AND WILL do this.
Please, please RT this info. Please spread this info widely; there's so much bad info going around, I'm worried people will think their efforts have failed, and give up in defeat. FIGHT for the Internet and our right to unrestrained information.
P.S. Don't let the pro-rollback
#
NetNeutrality 
members of the FCC lie to you. Their proposed alternatives simply do not work, and aren't "imminently reasonable" as one of them said.
Many qs on Markey's Congressional Review Act resolution re: #NetNeutrality 1. It DOESN'T hurt to tell your Senator you want them to support his resolution. Go for it. 2. But the process isn't as straightforward as Twitter is claiming it to be.
3. Yes, it requires a simple majority to *pass* the resolution, but then it goes to POTUS. 4. POTUS can veto. Let's be realistic: Trump will veto. Then two-thirds in both chambers is needed to overturn that veto. More here: http://www.ncsl.org/blog/2017/03/07/congressional-review-act-101-a-brief-overview.aspx …
5. So absolutely say you want your Senators to sign on – and get them on the record – but diversify your approach to this. See my original thread.
An additional script. This is for your SENATORS only, and asks them to support Markey's Congressional Review Act Resolution. #NetNeutrality
And for your 2018 candidates of choice. Know where they stand, before you support them. #netneutrality. <Note from your friends at OTYCD: Don't support any candidate, incumbent or challenger, who won't fight for Net Neutrality.>
And hey! Within hours of Pewter tweeting all this info, the Attorneys General of California, Delaware, Hawaii, Iowa, Illinois, Kentucky, Massachusetts, Maine, Mississippi, New York, Oregon, Pennsylvania, Virginia, Vermont, and Washington state declared that they will sue the FCC over this.
Find your AG by plugging your address into this search engine:
https://whoaremyrepresentatives.org
Is yours one of the AGs who are suing? Thank them, and say you support them.
Is yours one of the AGs who isn't? Ask them to join the suit. Every little (friendly) nudge helps.
Text from previous update posts follow; scroll down for the calling script for the GOP tax bill.
Here's a December 10 Twitter thread from tax expert Michael Linden that you should see, which lays out what makes this week important:
This coming week is make-or-break for the GOP tax scam. If you have any interest in fighting this disastrous bill, follow along for a state-of-play update. Short version: we CAN still stop this thing. 1/
Here's where we are: Both the Senate & House have passed versions of the GOP tax scam. They have a lot in common (huge tax cuts for the wealthy & corporations, tax hikes on millions of middle class families) but aren't identical. 2/
To become law, the House & Senate have to pass identical bills. So to come up with ONE new version that both chambers can pass, the GOP has sent their bills to a "conference committee." 3/
That Conference Committee is, right now, behind closed doors, ironing out the differences between the House & Senate bill. The bad news is that the bill is much more likely to get worse than it is to get better. 4/
Once the Conference Committee creates a new bill that they think can pass both chambers, both the House and the Senate will have to vote AGAIN. That's our last chance to #KillTheBill. 5/
The Conference Committee is going to have precisely 1 "open" meeting (it's not much more than a photo op), and that'll be THIS WEDNESDAY, December 13th, at 2 PM. 6/
it'll be only a matter of days before the FINAL vote in the House & Senate. Those votes could be as soon as Thursday, but likely will be early the week of the 18th. 7/
That means this week is CRITICAL. If we're going to stop this bill, Congress needs to hear and feel the backlash. We can stop it either by flipping 10 GOP votes in the House or 2 GOP votes in the Senate. Tall orders, yes, but not impossible. 8/
Here's a list of 50+ potentially flippable House GOPers. These all have some combination of the following characteristics: •From states that would be particularly hard hit •Voted against ACA repeal •Are in competitive 2018 races We need 10 of 'em. 9/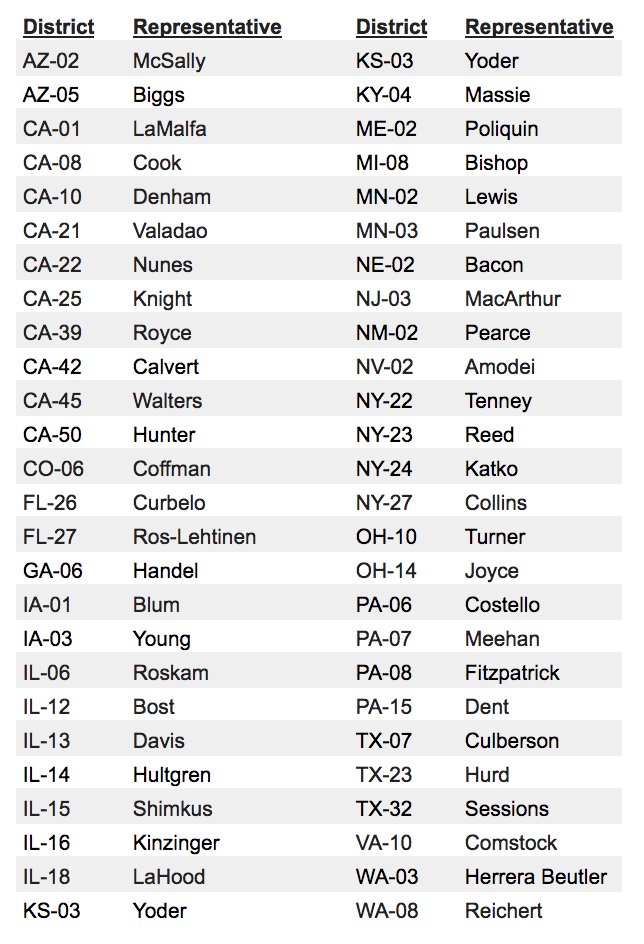 In the Senate, our best bets are Susan Collins and Jeff Flake (and it would help if Doug Jones wins on Tuesday). Both were promised concessions that aren't likely to be in the final bill. Both want to be thought of as "serious" and "independent." 10/
So, what can you do? 1. Call EVERY day. Especially if you are in AZ, ME, or one of those 50 House districts, but call daily even if you aren't (Congress needs to feel the backlash everywhere – & they talk to each other). 11/ <Note from OTYCD: Yes, this is one of those times when it is OK to call for days in a row on the same issue.>
Bottom line: the GOP knows their tax scam is historically unpopular. They're hoping that voters will forget about it by next November and beyond. Our best bet to stop the bill is by showing them we won't forget. /end
And here are more things you might want to know:
There might be a GOP Tax Scam protest near you. Check this link to find out:
https://notonepenny.org/take-action/#events
In her December 6 update on fighting the GOP tax bill, Celeste Pewter (@Celeste_Pewter) offered talking points that you can use with friends, family, and co-workers:
8. Here are talking points you can include in any contact you share w/ friends/family/colleagues. Key point is that the impact on the deficit could eventually result in cuts in entitlement programs.
The Senate has chosen its lineup for the Tax Conference Committee. They will represent the Senate when trying to reconcile the House and Senate versions of the GOP tax bill.
If any of these Republicans are your senators, it is super-extra-important for you to call and make your opposition known.
Orrin Hatch of Utah
Mike Enzi of Wyoming
Lisa Murkowski of Alaska
John Cornyn of Texas
John Thune of South Dakota
Rob Portman of Ohio
Tim Scott of South Carolina
Pat Toomey of Pennsylvania
Before that, the House GOP named its tax conference committee members. If any of these folks are your reps, it is super-extra-important for you to call (again, all are Republicans):
Kevin Brady of Texas
Devin Nunes of California
Peter Roskam of Illinois
Diane Black of Tennessee
Kristi Noem of South Dakota
Rob Bishop of Utah
Don Young of Alaska
Greg Walden of Oregon
John Shimkus of Illinois
Here also are several other folks aside from @MichaelSLinden, @Celeste_Pewter, @TopherSpiro, and @aslavitt who you should be following on Twitter to stay on top of the GOP tax bill, which is morphing constantly, like a suspect science experiment in a horror movie. Some of these people are old friends from the Trumpcare fights. Some are tax experts.
Ben Wikler @benwikler
Seth Hanlon @sethhanlon
Sunjeev Bery @sunjeevbery
Lily Batchelder @lilybatch
Greg Leiserson @gregleiserson
Chad Bolt @chadderr
Here also are two more recent posts that relate to the GOP tax bill and its effects that you should see if you haven't yet:
https://onethingyoucando.com/2017/12/02/refresh-review-and-prep-for-2018-gop-tax-bill-related-briefing/
https://onethingyoucando.com/2017/12/03/commit-now-to-put-any-tax-benefits-you-might-get-from-the-gop-tax-bill-to-fighting-its-effects/
One last note, which we've stated before: Even if this bill ultimately implodes and never becomes law, we still need to vote out every Republican that we can in 2018. This whole process has been nothing less than legislative malpractice. They should be punished for aiding and abetting it. Period.